This post is available in two versions; the long and the short. The first will be the long version that will truly give you a picture of how yesterday went down, but if you're like my sister and you don't have any patience for a story to be told the way it should be, you can skip ahead to the short version. Either way brace yourself for a story that's... well... icky.

LONG VERSION:

Yesterday morning when I brought King outside to the bathroom I noticed a little brown spot on his cheek. It's a strange thing noticing a tiny little brown dot on your dog because in a split second you think "Oh that's probably dirt, but what if it isn't?" And then part of you
feels afraid that something might be wrong with him and part of you
feels annoyed that you now have something new to deal with. But mostly it was 7:30 in the morning so I was thinking that I was tired and needed to get to work. So I brought King back inside and inspected the brown spot. I knew it wasn't dirt because it wouldn't wipe off with a wet wash cloth and it was tear shaped and smooth, so I tugged at it a little bit, but it wouldn't budge. So I thought "Oh crap, it's always something", put King in the kitchen, gave him a treat and went to work. At work I emailed my friend who's a veterinary technician and described the spot to her and she thought it might be a skin tag. So I called my veteran's office and made an appointment to have it looked at.

There was something about the situation that didn't feel right though. Because King is really too young to have skin tags, especially ones that big and why was this one so dark in color? And something about that being the solution just didn't feel right to me. It was driving me crazy thinking about it at work all morning, enough so that I drove home at lunch to get a closer look and really inspect it. I had been too busy trying to get to work in the morning to give it the attention it deserved.

So when I got home at lunch I pulled King over to me and tried to get him to settle enough to let me look at his face. And my stomach was already churning because whatever this thing was, it was gross, that much was a given, so I was just dreading dealing with it all together. But in situations like these I always think of what my mom used to say when I'd tell her I didn't want to do something that had to be done, she'd say "You don't want to deal with it? Too bad, you have to, so just do it". Because my mom can be bad ass when she wants to be. So I did. I got up really close, pulled back the hair to reveal the whole blob and still had no idea what I was looking at. So I grabbed a wash cloth, took hold of it and pulled harder.

And the thing popped off.

So I looked at it in the wash cloth and quickly realized that the skin tag had legs! That were flailing around frantically! IT WAS A TICK! ATTACHED TO MY DOGS FACE! A huge, fat, disgusting, blood filled tick! And I nearly threw up. It was foul. I've pulled ticks off my dog before, but they were small ones that had just jumped on recently, but this tick, that sucker had been there a while.

*shudder*

I immediately called the vet to see what one should do in a situation like this. Do I save the tick for testing? Do I bring the dog in to get checked out? Do I jump up and down in my apartment screaming "Yuck, yuck, yuck!" all afternoon? Do I call a doctor to remove the part of my brain that is going to forever remember those flailing tick legs sticking out of that fat, bloated, bloody body? Well I didn't do any of those things, I just flushed it, spoke with the woman at the vet and canceled our appointment, gave King a couple really good treats and we went on with my day.

Kings fine now, he was a happy dog all night and I pet him and looked him over to make sure that tick didn't have any friends with him. But he seems to be fine. I haven't figured out exactly where or when that little sucker got on him, but I guess it must have been at the dog park Sunday. It's not a really woody dog park and it's in the middle of the city, but I still think that must have been where it came from. Either way that horrible little thing is gone now and I hope I never have to deal with another situation like that again. Although that's probably a naive thought and I will most likely be confronted with an issue like this again in Kings lifetime, but I'm just going to pretend otherwise. This will just go down as the day I proved how much I love my dog because that was the sickest thing ever, but I'd gladly do it again to keep him healthy and happy.

SHORT VERSION:

Today I pulled a blood filled tick the size of a buick off my dog. It was absolutely disgusting.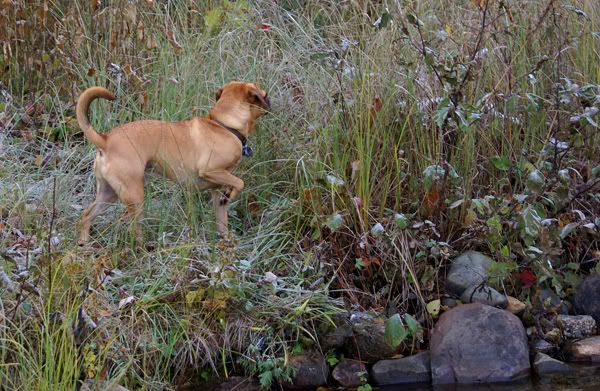 And in case you're suspecting, I really don't think that he got that tick when we were up north. I look at this dog and pet him all the time every day, so I would have noticed it before. I think he must have gotten it Sunday. But isn't his little hunting stance in this picture so cute?