The collective consensus seems to be that January was the worst.
I concur.
But in February I'm keeping my chin up. It might be with the help of several scarves, but whatever.
There have been so many good things as of late, enough to fill a whole blog post.
I will share them now.
Let's start with the house. I've gotten some progress made I thought I'd share. For a while now I've been wondering what I should put over my bed, but kept thinking to myself how much I don't really like things directly above my head while I'm sleeping. I believe this stems from reading Flat Stanley in third grade. Anyway, there was also the problem of space as the room isn't very big so I didn't want to add a headboard to make it feel even smaller. I had a flash epiphany one day about a week ago and realized that my best bet was to just paint a headboard onto the wall using the same paint as the accent wall across from it. I was happy with how it turned out.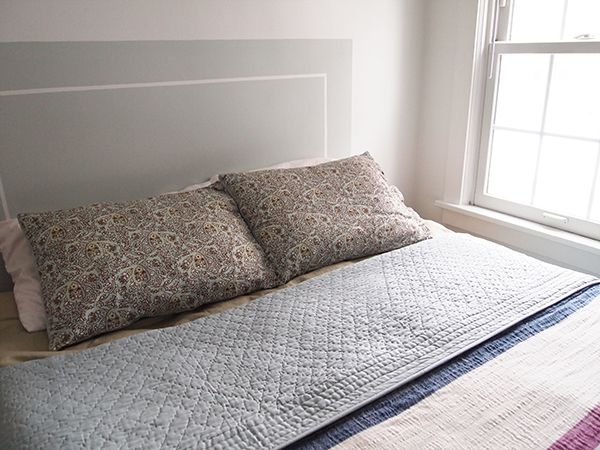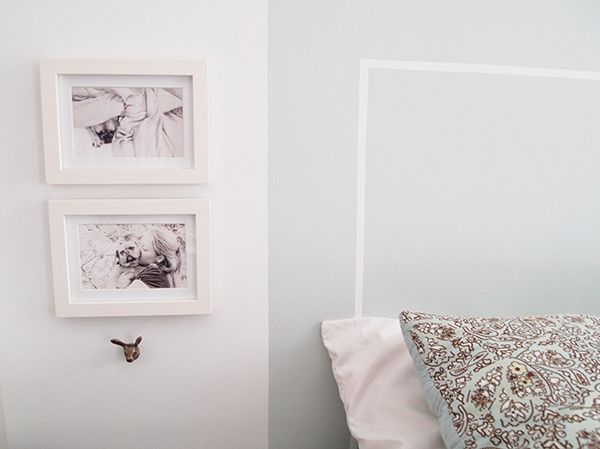 The next piece of newness is thanks to this little book. I had a postcard of a print from it, by Michael Sowa, on my fridge for years. And one day I realized that it would be the perfect piece for above the kitchen table.
So I ordered the book and hung the print and it wasn't until after it was up that the book arrived and I read it. It's reads like the slightly advanced children's book. Almost too adult in it's theme for children, but not really and it's pretty fantastic. I'm so pleased with how the print turned out in the kitchen and by how much the book just makes it that much better.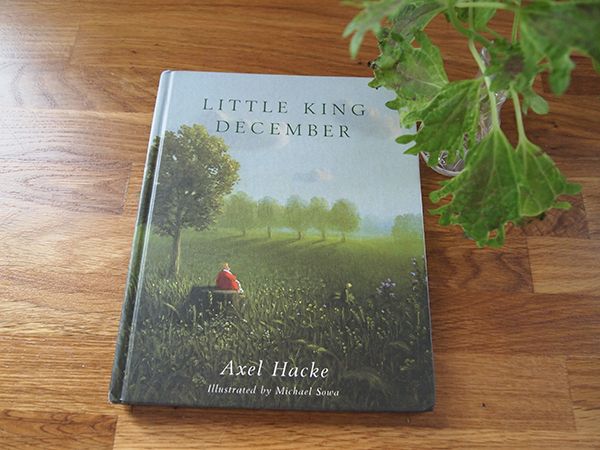 Also note the new kitchen chairs! I got them on craigslist for $40 (the guy told me they were the only thing he got in "the divorce", ouch!) and painted them green. They are a set of four, but I just keep two out to save space. Mom helped me with the cushions that are gray wool and I could not be more pleased with them. Thanks again mom!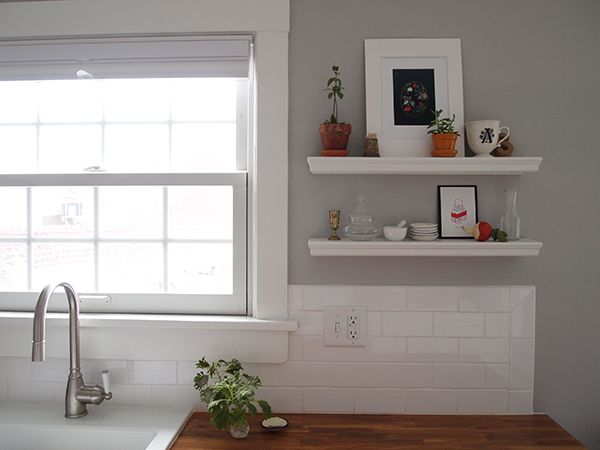 More family help came in the form of these two shelves that dad built for me months ago. I'm so pleased with how they look, they are exactly what I wanted. My favorite piece up there is probably the little paper mache radish that Jady found for me one day while we were antiquing.
I just hung this west elm planter last weekend with dad. It adds a lot to a room that needs a bit of help (new tile, lighting and sink especially). Though it's the fifth plant in there so the place is beginning to be a bit of a jungle. Anyway, I love it. I love them all. The print in the bathroom is just framed anthro wallpaper (did you know you can order small samples of all the anthro wallpaper for free? it's fun to get cute swatches for small prints and projects).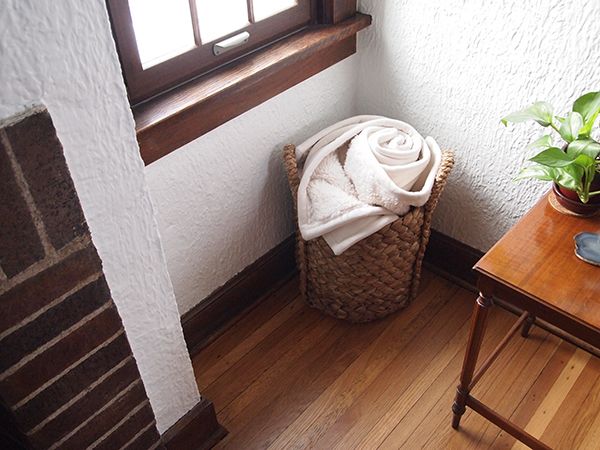 My friend Nina taught me years ago the value of a good basket. Especially for throws that are too big for a couch or chair (or if you want to keep the dog off it when you're not using it). I got this cutie at Pottery Barn (they only seem to have the large one on the website, I got the small one) and it perfectly fits the blanket Jady and Jason got me for Christmas. Fantastic. I just love that blanket more than I can say. As an aside, baskets also work really well for dvd storage, kids toys, or for towels in the bathroom if you don't have much closet space.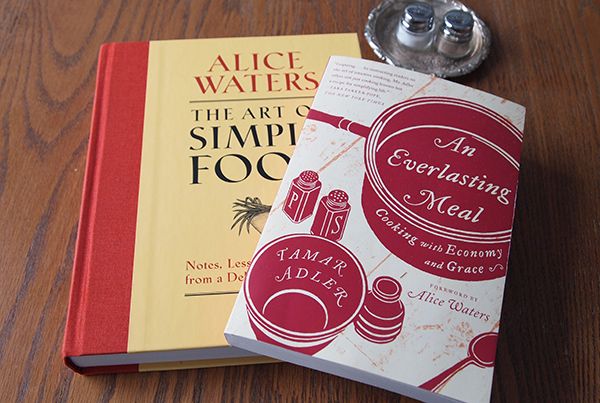 That's it for house stuff at this point. It's a giant work in progress, but I'm happy with how it's coming along. Slowly but surely.
I do have to tell you guys though about two books I can't recommend enough.
Alice Water's book The Art Of Simple Food is my new food bible. I read it cover to cover and need to get through it again. For now I just use it as a reference whenever I'm cooking pretty much anything. Mrs. Waters is my absolute food (and life) hero. You can listen to a couple of her talks here and here to get to know her a bit if you don't already. Quite inspiring.
And then there's Tamar Adler's An Everlasting Meal: Cooking with Economy and Grace which is so great I gave it to two people for Christmas gifts. It's such an inspiring book on cooking and life and so beautifully well written. Go buy it. And buy one for your mom or aunt or some other food lover in your life.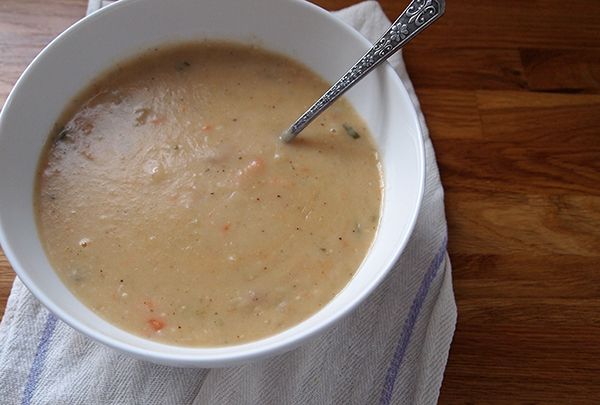 Then there are the soups I mentioned in my last post. My tops this season being This potato one. This lentil and sausage. This hearty sausage, chicken and veggie one has been made numerous times as it's amazing. Love this tomato. And this zuppa toscana is probably one of my favorites of all time. Pin and make them all guys. And the secret to good soups... buy your ingredients at the coop. Next up that I haven't tried yet is this chicken, bacon wild rice. YUM! If you've got any recommendations I'd love to hear 'em.
Then there was this picture that Genevra texted me last weekend of our seeds that arrived from the Seed Savers Exchange Catalog. I cannot wait to start my seeds in the basement later this winter (still have to get the whole shelving and heating pad unit set up), build my raised bed gardens and get these babies planted in the spring. Obviously more on that to come.
And last but not least I went up north to my friend Kristina's cabin last weekend and had a great time. I had my first ever bloody mary Sunday morning. You guys, they are so good! I've been wanting to like bloody's for years as they seem like the perfect weekend morning out drink and I love all the accompaniments, but I couldn't get into them since I never liked tomatoes/tomato juice. And since I finally got over that I realized I could love me some bloody mary's too... and now I do. Whoot!
February is looking up you guys! If any of you have good things to share I'd love to hear. Spread the love.